The compact heater for serial production
The IH 090 induction heater is suitable for heating medium to large workpieces weighing up to 150 kg. As standard, the IH 090 has a swivel arm and three yokes. Thanks to its integrated air cooling system, the IH 090 is suitable for series assembly and continuous operation.
For rolling bearings weighing up to 150 kg
For workpieces with an inner diameter of 20 to 400 mm
Available for voltages of 200, 400–480 and 500–575 V
Fan cooling for continuous operation
Particularly compact design - including the yokes weighing only 38 kg
Induction coil outside of the housing, shortens the heating times and reduces energy consumption
Can heat a 90 kg bearing from 20 °C to 110 °C in 20 minutes, thus saving time and energy
5-stage power consumption in combination with smaller yokes, allows smaller bearings to heat up safely and quickly with less energy
Automatic demagnetization
Supplied with three yokes as standard
Swivel arm including yoke adapter so that swivel arm can also be used with small yokes
3 year manufacturer warranty
Product images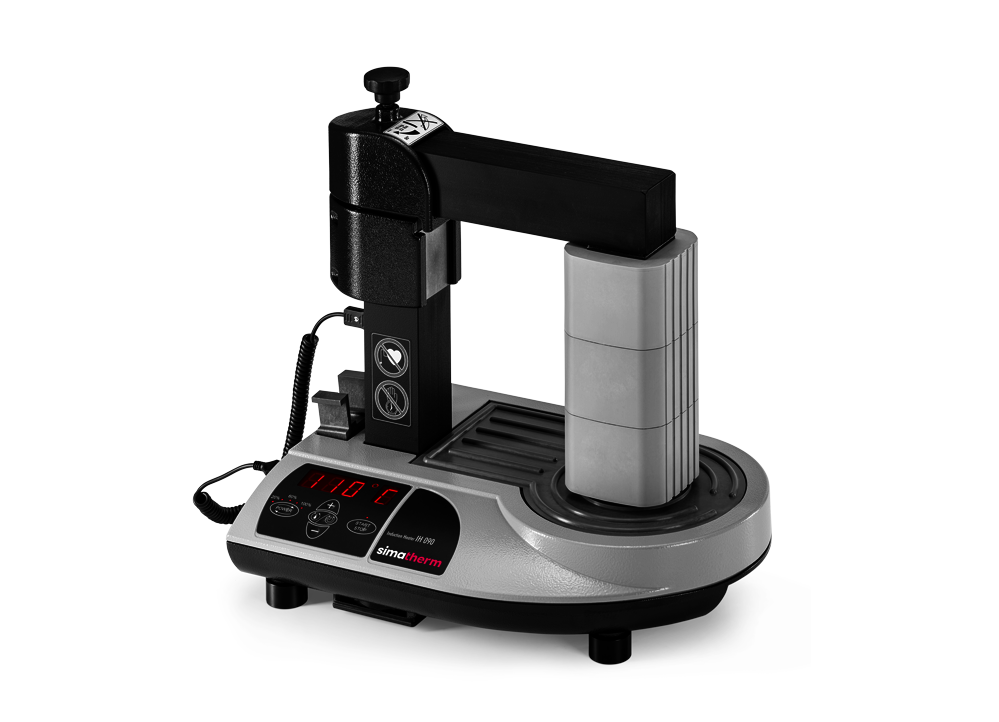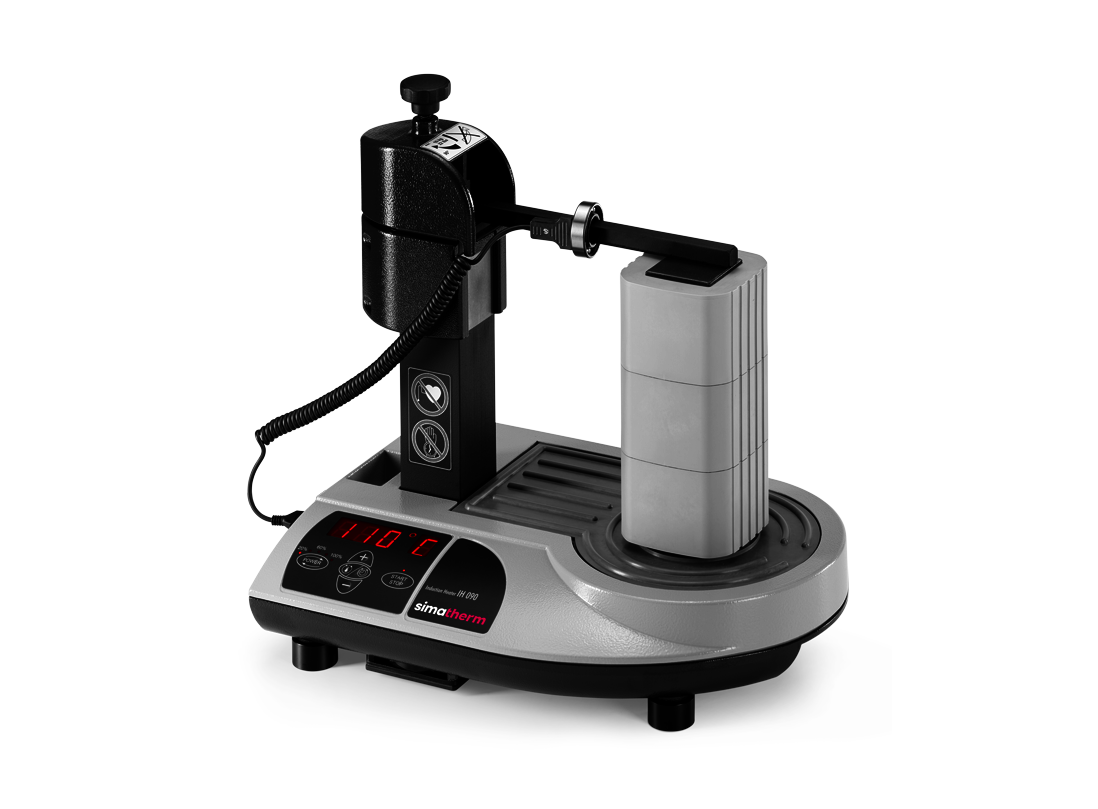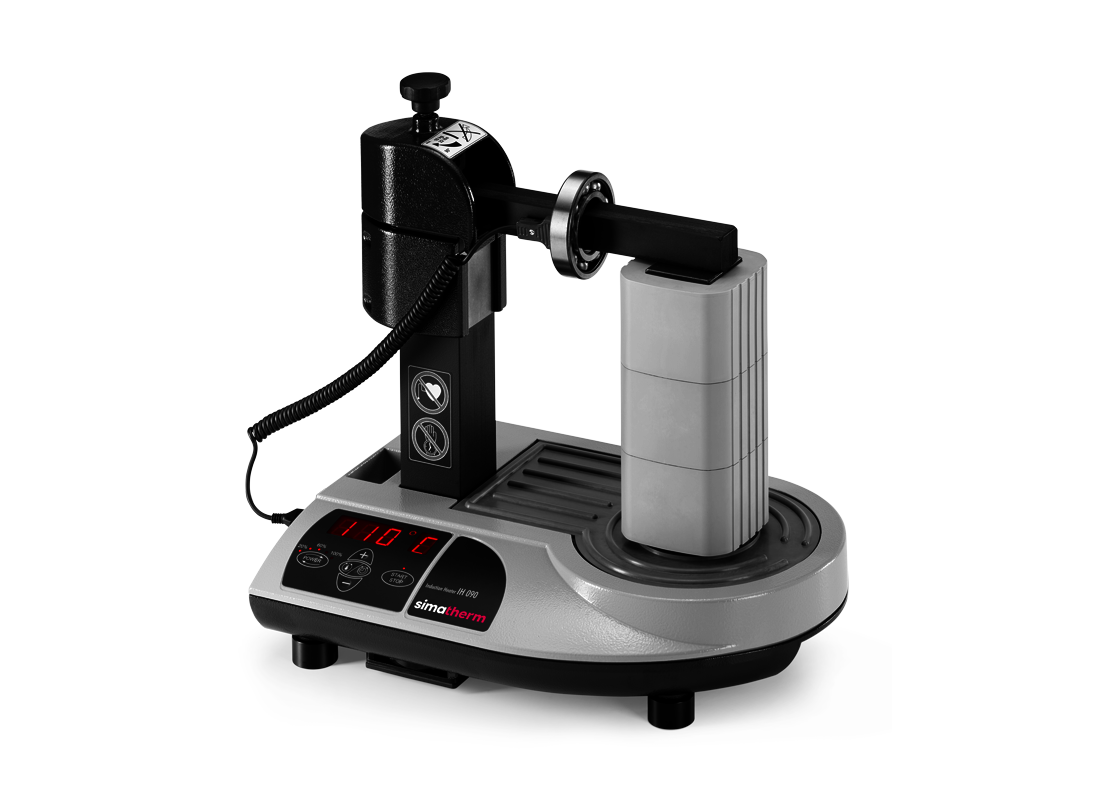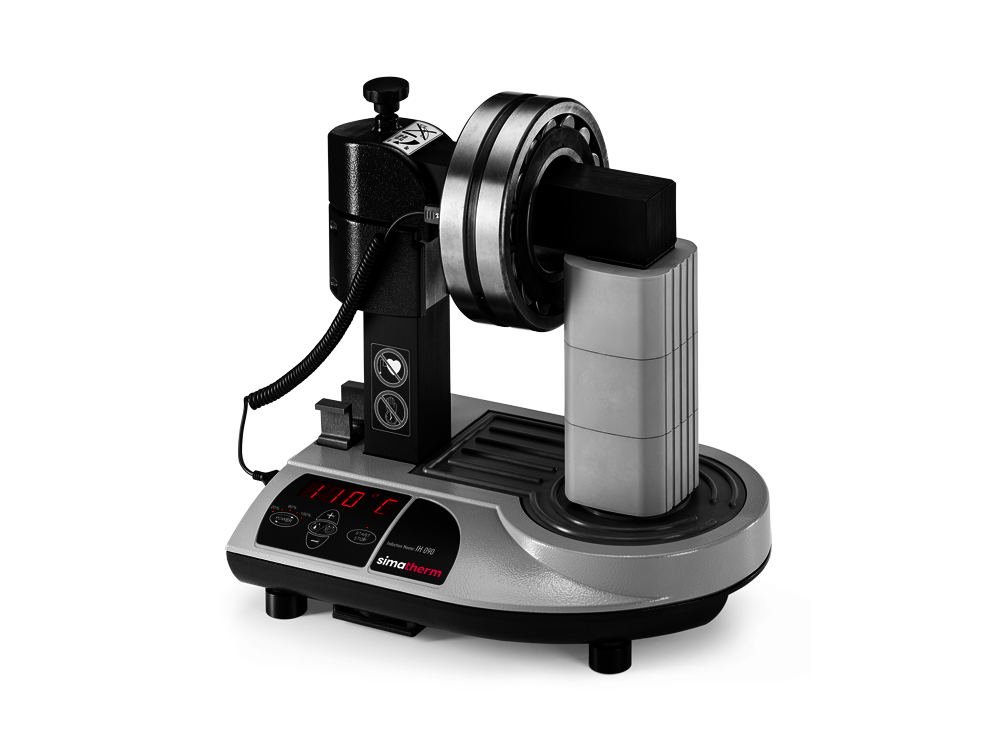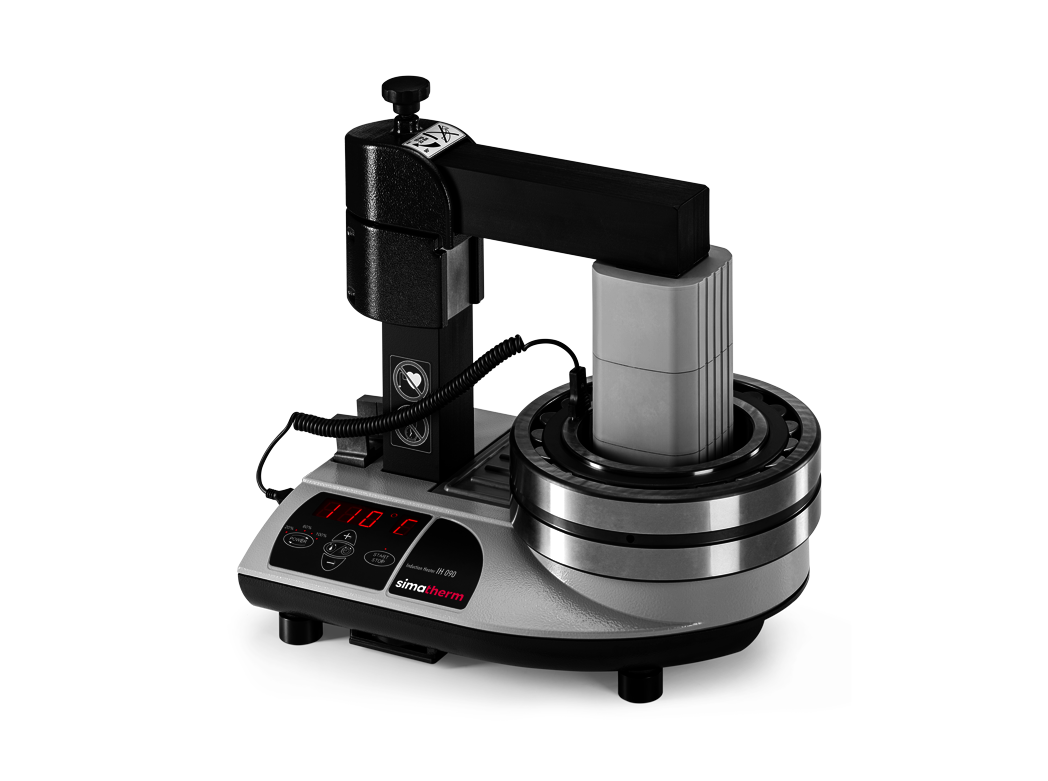 1x simatherm IH 090
1x User manual
1x Temperature probe
1x Power cord
1x Protective gloves
1x Swivel arm
1x Yoke adapter
1x Yoke 14x14 for bearings with bore diameter from 20 mm
1x Yoke 28x28 for bearings with bore diameter from 40 mm
1x Yoke 55x55 for bearings with bore diameter from 78 mm
Optional:
Yokes (10 x10 mm, 20 x 20 mm, 40 x 40 mm)
Technical data
simatherm IH 090
Heater with cooling fan for continuous operation with small to medium workpieces
400 V / 50 Hz / 6.4 kVA
440 – 480 V / 50–60 Hz / 7.4 kVA
575 V / 60 Hz / 9.2 kVA
| | |
| --- | --- |
| Maximum weight | 150 kg |
| Bore diameter | From 20 mm inner diameter to 400 mm outer diameter |
| | |
| --- | --- |
| Range | 0 – 250 °C |
| Magnetic probe | yes, type K |
| Accuracy (electronic) | ± 3 °C |
| | |
| --- | --- |
| Range | 0 – 60 minutes |
| Accuracy | 0.1 minutes |
Maximum temperature (approx.)
5 levels / 20-40-60-80-100%
Automatic demagnetization / residual magnetism
Suitable for heating sealed bearings
Suitable for heating pre-greased bearings
Thermal overload protection
Keyboard with LED-display
Size of the operating area (WxH)
Overall weight including yokes
55 x 55 x 275 mm for bearings with a bore diameter of at least 78 mm
28 x 28 x 275 mm for bearings with a bore diameter of at least 40 mm
14 x 14 x 275 mm for bearings with a bore diameter of at least 20 mm
Industry target groups and applications

Fabrication and assembly

General mechanical engineering
Gearbox construction (vehicles and industry)
Pumps
Hydraulic equipment
Electric motor construction
Conveyor and conveying systems

General operations maintenance

Metal processing industry
Paper and cardboard factories
Textile industry
Larger printing plants
Food industry
Building services
Vehicles (buses, trucks, rail vehicles)
Construction machinery
Forklifts, storage equipment / lifting devices

Typical components which can be heated with the IH 090

Rolling bearings
Gears
Gear rims
Shrink rings
Pistons
Bushings
Sleeves
Clutch parts

Materials which can be heated well

Structural steel
Ball bearing steel
Grey cast iron
Cast steel
Application images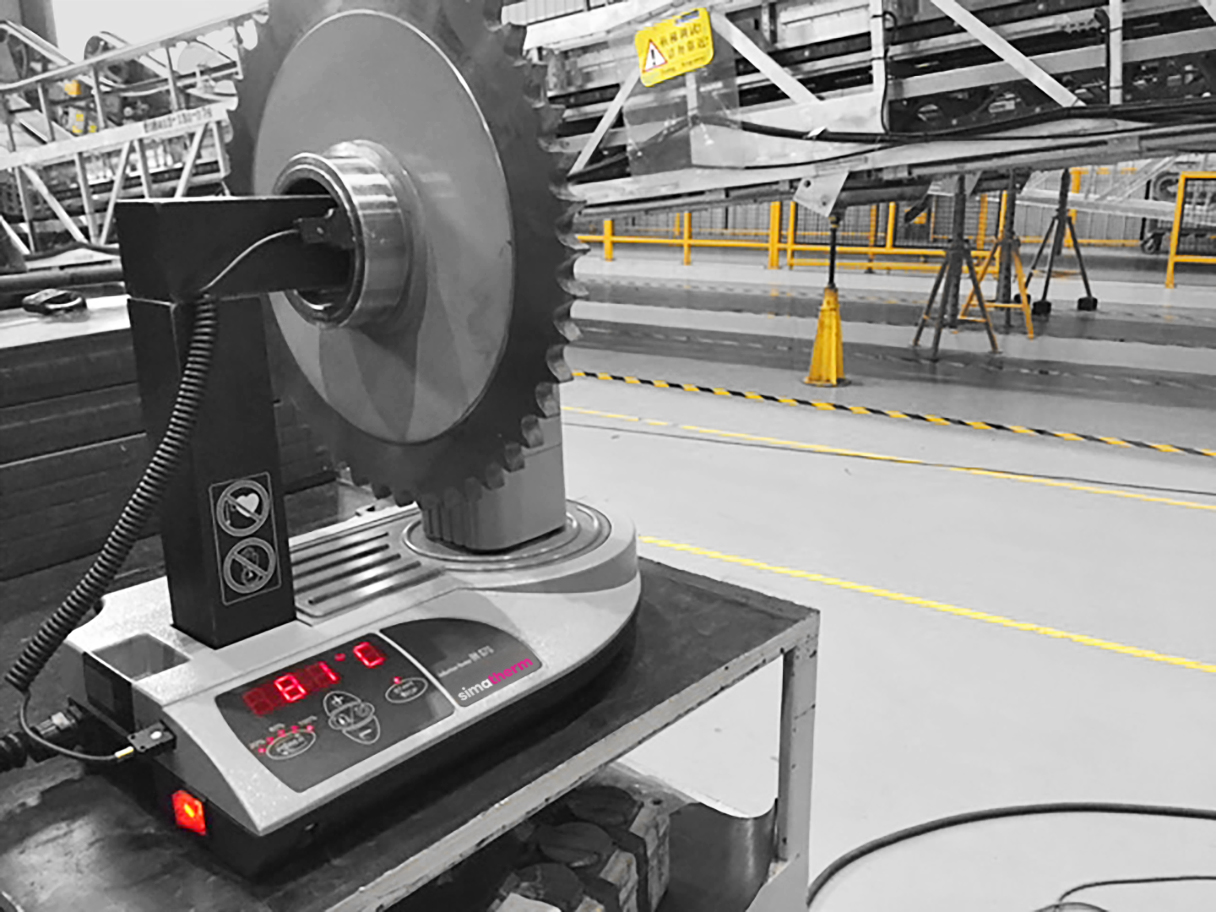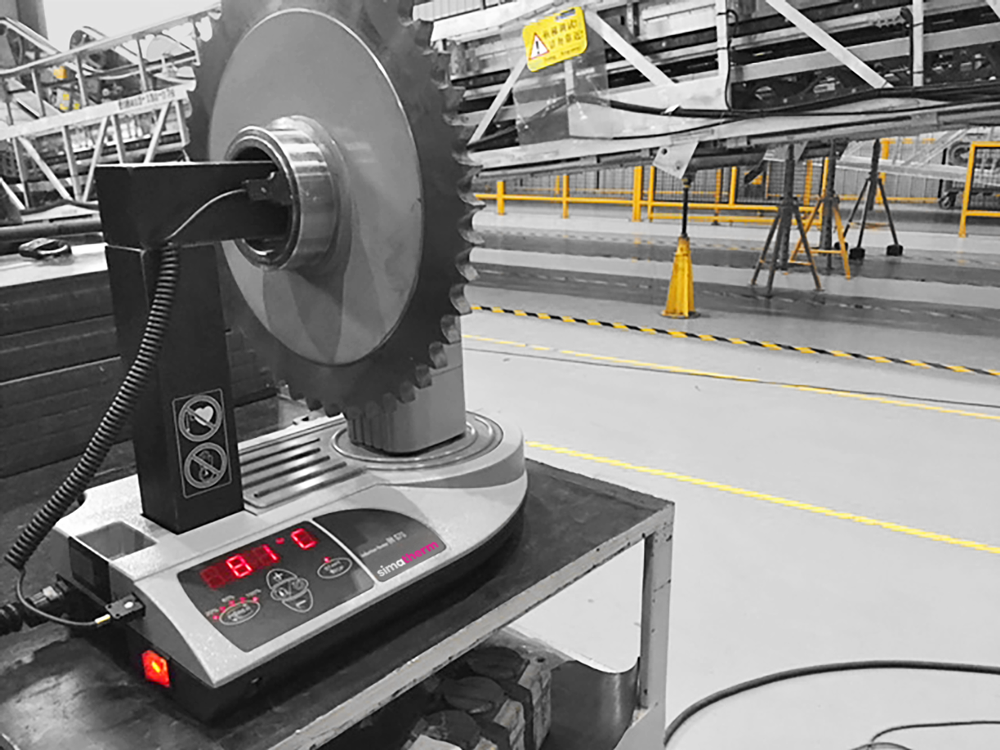 More simatec products for you?
Innovative maintenance products for rolling bearings simplify complex processes and reduce the maintenance effort on tens of thousands of machines around the globe. You can also benefit from our heating devices and special tools for the perfect handling of rolling bearings.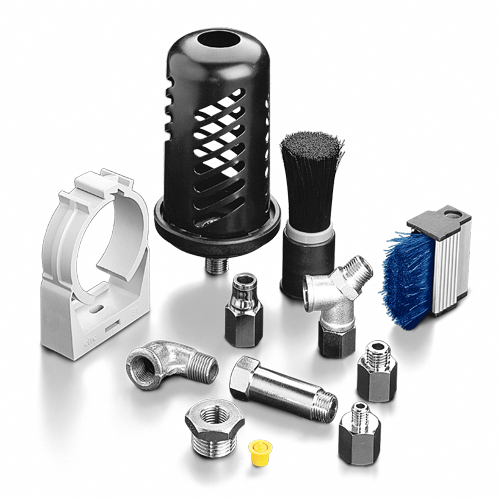 simalube
Accessories
With the range of accessories, the simalube is easy to install anywhere and in any position.
About the product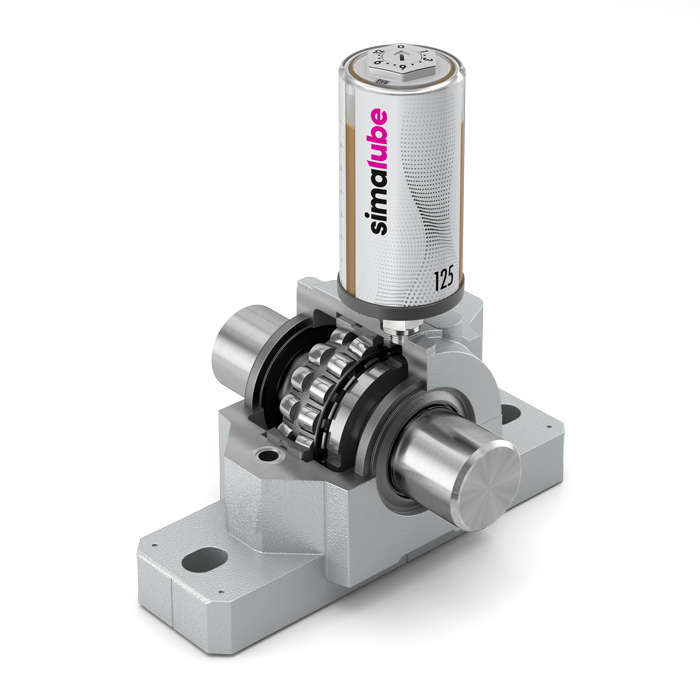 simalube
Lubricators
simalube supplies various lubrication points with lubricant around the clock.