History
As an innovation-oriented company, we concentrate on offering our customers maximum benefits with our products and services. Our motivated and competent team from all areas of the company are committed to the top quality and global success of our products every day.
Pioneering spirit – our DNA
Our roots are in Oberaargau. What was begun by pioneer Max Wyssmann in his top floor room in Herzogenbuchsee is successfully continued by us today in our modern plant in Wangen an der Aare – with an inventive spirit for leading products in the global market.

A top floor room as the first business address
1983 – simatec ag is founded
In 1983, the technical draughtsman and inventor of innovative induction heaters Max Wyssmann founds the company simatec ag together with his wife Silvia. During the first few years, he works and tinkers in the top floor room of their house in Herzogenbuchsee.

Max Wyssmann with his induction heater
Max Wyssmann – his innovations are formative
All his life, Max Wyssmann has been an inventor of breakthrough technologies for minimising maintenance effort and maximising operational safety in all branches of industry. His inventive spirit remains the heart and DNA of simatec ag today.

Technical experts together: Claude Nicollier and Max Wyssmann
1987 – induction heating devices and tools
In 1987, simatec ag moves into his own business premises in Herzogenbuchsee. Here, office, production and storage rooms are set up and additional employees are hired. simatec ag is on the road to success with its production of induction heaters and tools for the efficient assembly and dismantling of ball bearings.

The move to the first company building is made in 1987
1994 – Product launch
simatec ag launches a breakthrough innovation: Pioneer Max Wyssmann achieves a quantum leap with the development of an automatic lubricant dispenser driven by a gas evolution cell. The gates to the global market are finally opening for simatec ag. The "simalube" becomes the most important product in our company and from now on is continuously developed in addition to the "simatherm" induction heaters and "simatool" tools. Production is running at full speed – in the meantime, 20 employees are part of the highly-motivated simatec team.

The automatic lubricant dispenser conquers the world market
1998 – product launch
The little brother of the simalube 125 ml, called simalube shorty, is launched in 1998. Apart from the smaller dispenser size, the simalube shorty is absolutely identical in construction to the simalube 125 ml.

simalube 60 ml – also known by the name "Shorty"
2002 – a new company headquarters is built
The premises urgently need to be enlarged. Modern company headquarters emerge in Wangen an der Aare, with machinery for production, development, sales and administration – further workplaces are created. The export share is around 95%, however it is still produced in the local production buildings.

In 2002, simatec ag moves to the modern new building in Wangen a.A.
2005 – the DNA of the second generation of simatec ag
Mischa Wyssmann takes over operational management of simatec ag in 2005. The roots are tangible. Under his management, in 2007 a subsidiary is set up in Charlotte, USA as well as a sales channel in Japan – a global, sustainable distributor network is thus created. From this point on, he continues to manage the business of simatec ag innovatively and on a successful economic basis. Silvia and Max Wyssmann remain as a member of the board of directors.

Mischa Wyssmann and Max Wyssmann
2005 – product launch
Own product lines of simatherm induction heaters and simatool tools are launched successfully in 2005.

simatherm and simatool families
2005 - the simalube family is growing
The automatic lubricant dispenser simalube is developed and improved. Two new sizes, the simalube 30 ml and simalube 250 ml, appear on the market in 2005.

simalube 250 ml as well as the 30 ml
2008 – high-tech products in use worldwide
In 2008, simatec ag is one of the leading manufacturers of lubricant dispensers, induction heaters and tool sets for machine and maintenance workshops around the world. In the same year, simatec ag passes into the ownership of Mischa Wyssman.

… and the business runs like clockwork
2011 – New innovative technology
simatec ag presents the portable induction heater simatherm VOLCANO IH 025 and thus introduces another innovation to the global market.

simatherm VOLCANO IH 025
2013 – 2014 – innovation needs space
Under the leadership of Mischa Wyssmann, the company continues to grow: 95% of production is exported, the simatec ag team already has 40 employees and the space capacity limits are exhausted. The decision is easy – simatec ag decides to build an extension of 2600 m2 – the size of the existing building are was thus doubled. A masterpiece of architecture.

Ground-breaking ceremony by the founding couple Max and Silvia Wyssmann with their son Mischa Wyssmann
2013 – Another world's first
With the simalube 15 ml, simatec ag is successful in launching the smallest lubricant dispenser worldwide.

The smallest in the product range: simalube 15 ml
2015 – product launch
The pressure booster up to 10 bar (145 psi) simalube IMPULSE conquers the global market.

simalube IMPULSE
2015 – Sustainability as a statement for the future
The sustainable use of renewable energies is an integral component of simatec's values. For this reason, the company supports a solar energy project on its own roof in 2015: The photovoltaic system with 160 MWh covers a significant part of the company's own electricity consumption.

Solar panels on the roof of simatec ag
2019 – automation
simatec ag invests in a fully automatic filling and assembly line for the simalube lubricator.

New simalube filling line
2021 – the course is set for digitalisation
simatec ag looks back on a unique company philosophy: Perseverance and ingenuity make the family business successful to this day. In the future, digitalization will also have an impact on simatec ag's products and processes.

Digital transformation for companies and products
2021 – product launch
The revolutionary simalube IMPULSE connect is introduced – simatec ag sets a new milestone in the industry.

simalube IMPULSE connect
2021 – the new "simatec World of Maintenance" app
Ready for the World of Maintenance? Together with the simalube IMPULSE connect, simatec is launching the respective app "simatec World of Maintenance", which enables digital monitoring of lubrication points. With these two innovations, simatec is among the world market leaders.

simatec mobile app "simatec World of Maintenance"
2022 – on track – digital transformation
Digitally-based technologies such as those of the simalube IMPULSE connect have been setting new standards for the automated, efficient and secure maintenance work on machines all over the world.

Within the context of "Industry 4.0", simatec focuses on digital transformation. "Digital First" is consistent restructuring – including restructuring for customer-centric innovations.

Digital transformation for companies and products
2022 – A new era with simatec re-branding
It is with great enthusiasm that we unveil our new chapter: the simatec re-branding. This exciting change reflects our continuous development and innovative spirit. Our new look includes the four new logos and symbolizes our commitment to the future of our products and underscores our long-standing dedication to excellence. Welcome to an era that redefines and visualizes our values and vision.

New simatec logo
2023 – 40 years of simatec: A journey through our history
For four decades, simatec has stood for innovation, quality and progress in the industry. What once began as a modest vision has evolved into a global pioneer in the fields of single-point lubrication and specialty tools for bearing handling. From our beginnings to our current status as an industry leader with a team of over fifty talented professionals, we are proud of the milestones we have achieved. Thanks to our pioneering technologies and the unwavering support of our loyal trade partners, we look forward to continuing to shape the future in the maintenance industry.

40 years of simatec
2023 – Revolutionary innovation: Presentation of the groundbreaking simatherm IH 045
We proudly present the world's first induction heating device for bearings and ferritic parts that can be controlled via an app on your smartphone - the simatherm IH 045. Our new masterpiece is revolutionizing the industry. With expertise spanning over four decades, we have created a product that offers unmatched benefits. With the simatherm IH 045, we are setting new standards for induction heaters and once again demonstrating our passion for innovation, technology and excellence.

New simatherm IH 045
More simatec products for you?
Innovative maintenance products for rolling bearings simplify complex processes and reduce the maintenance effort on tens of thousands of machines around the globe. You can also benefit from our heating devices and special tools for the perfect handling of rolling bearings.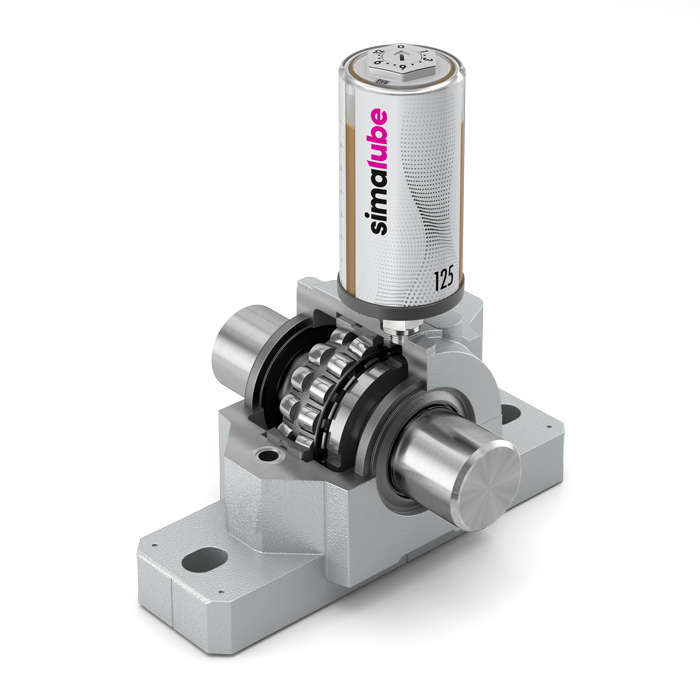 simalube
Lubricators
simalube supplies various lubrication points with lubricant around the clock
simatherm
Induction Heater
Perfect solution for fast, thermal mounting of rolling bearings